News Taffy
News Article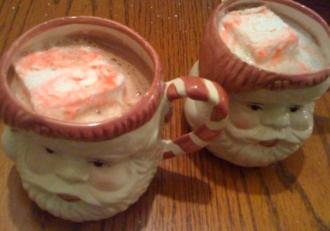 Little Hands Make Candy Cane Marshmallows
I hope everyone enjoyed Thanksgiving last week! Did you shop afterwards? It's officially the Christmas season, and if there were any doubters or bah humbugers out there, that beautiful snow last night hopefully won them over! We all bundled up and played in it last night, even putting Jazz's little blue vest on him so he could run around like a crazy dog in it. London went out again this morning in it in the backyard while I watched from the backdoor, and we almost didn't get her inside. However, what will always work to get those kiddos inside? Hot chocolate! And if that doesn't work? Throw some homemade marshmallows in!
Of all our homemade goodies around the house during the holidays, the marshmallows seem to be the biggest hit. They're easy, much much tastier than store bought, AND one more thing without high fructose corn syrup! WIN! We currently have a jar of regular marshmallows and one of candy cane marshmallows. They're great by themselves, in hot chocolate (especially the candy cane ones!), in rice krispie treats, or as gifts! In every recipe, it says that you need a stand alone mixer, but we should all be so lucky to have one of those sitting around! It works just fine with a regular, even if you must stop several times for the extract or just because of kids. I posted a link to a recipe back when we did Smores in the Sun in that lovely heat this past summer, but I thought I'd post it here for you now that it's Christmas time!
Note: I used a 9X9 pan instead of a larger one because I wanted thicker marshmallows. If you have problems getting the marshmallows out of the pan to cut, gently pull up a side and sprinkle some of the cornstarch/powdered sugar mixture under it and do to each side.
Homemade Marshmallows
INGREDIENTS:
*3 packages unflavored gelatin
*1 cup ice cold water, divided
*12 ounces granulated sugar, approximately
*1 1/2 cups 1 cup light corn syrup
*1/4 teaspoon kosher salt
*1 teaspoon vanilla extract
*1/4 teaspoon peppermint extract (if you're wanting to do candy cane) *a coupleof  drops of red food coloring (candy cane)
*1/4 cup confectioners' sugar
*1/4 cup cornstarch Nonstick spray
DIRECTIONS:  First, put gelatin and 1/2 cup of water in a large mixing bowl to sit. Mix sugar, syrup, salt, and other half of water in a medium sauce pan and turn burner on medium heat. Cover for 5 minutes, then uncover and allow to heat to 240 F degrees. While the mixture is heating, take a 13 X 9 inch metal pan and spray lightly with nonstick spray. Mix together cornstarch and confectioner's sugar in a small bowl, and use dust pan until it is coated with it. When it reaches 240F, pour slowly into the large bowl with the gelatin mix and turn mixer on high. Mix on high until the mixture begins to thicken and cool. It takes 10 to 15 minutes for it to be luke warm, and when it is, pour in extract and mix in well. Pour marshmallow mixture into metal pan. If making regular marshmallows, sprinkle more of the cornstarch/sugar mixture onto the top and allow to sit for at least 3 to 4 hours. If making candy cane marshmallows, before sprinkling with dusting, drop several drops of food coloring on top of the marshmallow mixture, then use a toothpick to swirl it lightly until you have a look you want. Then cover with dusting just as with regular marshmallows. After allowing them to sit for several hours to thicken, turn the marshmallows out onto a cutting board. Use a pizza cutter to cut them up into small cubes, using the remaining cornstarch/powdered sugar mixture to dip the pizza cutter into and coats all four sides of the cut pieces. Seal in air tight container for storage and keep for two weeks.
Until next time,
Heather
[+] add comment