News Taffy
News Article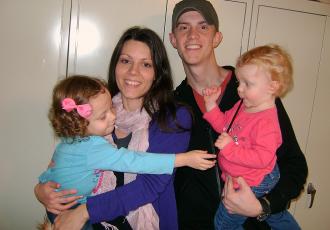 Little Hands Enjoy the True Meaning of Christmas
The Christmas season is, by far, my favorite time of year. I love spring with it's flowers and promises of colorful, healthy foods. I love summer, mostly for it's lack of school for me, but also it's carefree long sunny days. Autumn, for making us slow down and notice nature again. But, winter, and Christmas inside of it, are so lovely to me. However, the biggest problem with this season is that as soon as we've slowed our pace from a jog in the hot summer to a walk during that autumn season, we begin to sprint after Thanksgiving! Lovely leaves are gone, the mums I can never keep alive are gone, and now I have a billion things on my to do list.
Maybe it's because I have two very small children growing leaps and bounds every time I turn around, but I feel like I'm always fighting for time to stand still, even if just for a second. So far, the best ways I've found at succeeding in that, if only for a moment, is to include my girls in what I'm doing and to simplify. Instead of watching a Christmas movie, we google Christmas coloring pages to print out and color together. Instead of letting her watch the baking, I step back and let go of my control freak nature to let her crack the egg, then we pick out the shell pieces from the bowl. I'm no Super Mom, trust me, and I don't always remember, but it's easier to remember during the holidays. We've simplified the gift wrapping by color coding gifts by place. Call me crazy, but on Christmas Eve when you can grab all the silver for one house, the gold for another, and leave the green for home without glancing at a name tag, you lose a little of that holiday stress. The girls receive three gifts for Christmas from us, just as Jesus received three gifts, then one large gift from Santa to remind us that Jesus was a large gift to us. There's just something about toning down all the craziness of the holidays that tells us we need to go go go! and buy buy buy! That makes you want to peacefully enjoy a time that is quite special.
We're still a young family, so we'd love to hear ways that you all try to tone down the Christmas buzz and focus more on each other and the day!
Until next time,
Heather
[+] add comment