News Taffy
News Article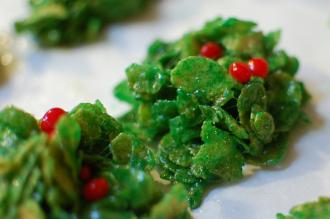 Holaday Holly Cookies for the Holidays
Holaday Holly Cookies Every year, for as long as I can remember, my mom has made Holaday Holly Cookies for Christmas. No, that's not a typo; my maiden name is Holaday. As you can imagine, we get a lot of Holaday/holiday jokes this time of year. Anyway, my mom's holly cookies are always a hit, and best of all, they're easy to make and they look really colorful and festive whenever you serve them or bring them to a holiday party. Merry Christmas and enjoy!
INGREDIENTS:
*4 cups of Kellog's Corn Flakes
*1 stick of butter
*green food coloring
*1 bag of marshmallows
*red hots
*wax paper
DIRECTIONS: Melt butter in large pot on low heat. After butter is melted, add marshmallows and continue melting on low heat, covered. Stir frequently. When marshmallows are completely melted, add 5-6 drops of green food coloring; remember, a little goes a long way. When food coloring is completely mixed in, add in corn flakes. Stir gently until marshmallow mixture completely covers the corn flakes. Next – and this is important – coat your hands in butter. You'll thank me when you're taking clumps of the cornflake and marshmallow mixture and putting them onto wax paper – it will make the mixture not stick to your hands. When all of the corn flake mixture has been divided into cookies (you can make them as large or as small as you want), immediately add 3-5 red hots on each cookie. If you wait too long, the red hots won't stick.
-Audrey Hanes
[+] add comment