News Taffy
News Article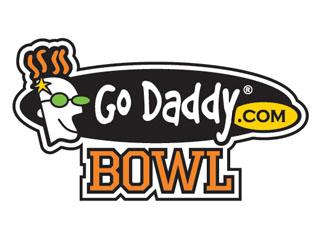 GoDaddy.com Bowl Preview
By Lisa Turner
The Arkansas State Red Wolves departed Jonesboro Wednesday for a journey a quarter of a century in the making.
Arkansas State arrived in Mobile, Ala., Wednesday evening to begin preparations for the GoDaddy.com Bowl, only their second post season appearance as an FBS school. The Sun Belt Champion Red Wolves (10-2) will square off against the Huskies of Northern Illinois Sunday in a game that closes out the most successful Arkansas State football season since Larry Lacewell's 1986 squad went to the Div. I-AA (FCS) national championship game.
The pair of Red Wolves losses this year are the kind pundits call "respectable losses." They lost on the road at Illinois at the start of the season and at No. 11 Virginia Tech, who played in the Sugar Bowl last night. Arkansas State hasn't lost since Sept. 17. Northern Illinois is 9-3 and the two teams are among the nation's leaders in offensive production and active winning streaks. The GoDaddy.com Bowl should give college football fans a heavy dose of scoring that will likely not be a part of Monday's defense laden BCS National Championship game between LSU and Alabama.
Arkansas State junior quarterback Ryan Aplin has thrown for 3,235 yards and owns a 66 percent accuracy rate this season. He's gained another 605 yards on the ground and is his team's leading rusher. Aplin has accounted for 27 touchdowns and was named Sun Belt Conference Offensive Player of the Year. He is the 10th best player in the FBS in offensive production. Houston quarterback Case Keenum is ranked No. 1.
Red Wolves senior wide receiver Dwayne Frampton is Aplin's top target and has racked up 1,125 yards on 90 catches. He and junior wideout Taylor Stockemer (37 catches, 571 yards) each have six touchdowns and junior Josh Jarboe is also a significant threat catching the ball. Jarboe has caught 52 passes for 707 yards in this wide open, fast-paced attack that has nine Red Wolves in double-digit catches.
Northern Illinois signal caller Chandler Harnish is a dual threat quarterback, too. He's thrown for 2,942 yards and completes 63 percent of his passes. Harnish, like Aplin, is also his team's leading rusher and has 1,382 yards running the ball. The Huskies QB has 37 total TDs.
NIU is without a 1,000 yard receiver and Nathan Palmer leads all Huskies with 46 catches for 683 yards and seven TDs. Running back Jasmin Hopkins has rushed for 932 yards and scored 15 TDs for NIU. Arkansas State's rushing attack is more diverse: Derek Lawson and Jermaine Robertson have combined for more than 600 yards and six TDs and Frankie Jackson has 343 rushing yards and six scores to his credit. The Red Wolves have 1,977 yards rushing as a team.
Though Sunday's game could be an offensive shootout, the defenses taking the field are not without their own reasons to boast.
Arkansas State was the only team this season to keep Virginia Tech's star running back David Wilson under 100 yards. Senior defensive end Brandon Joiner has collected honors all season, including a national defensive lineman of the week award. He was named Sun Belt Defensive Player of The Year and is on several post-season media awards lists, including an honorable mention on Sports Illustrated's All-American team. Joiner ranks 5th nationally in sacks (12) and with a solid performance Sunday can move up in the final rankings since the four players ahead of him have finished their seasons.
The GoDaddy.com Bowl will kickoff at 8 p.m. CST Sunday and will be televised nationally on ESPN. Tickets are still available via the ASU box office. Game day weather in Mobile is forecast to be mostly sunny with highs in the upper 60s.
[+] add comment