News Taffy
News Article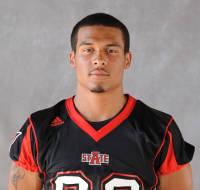 Parents Of The Pack

(EDITOR'S NOTE: Jonesboro.com asked Tammi Tryon to share her thoughts about being the mother of a Red Wolves football player as the team headed to Mobile Wednesday in preparation for the GoDaddy.com Bowl game on Jan. 8.. Her son, Andrew, is a freshman at Arkansas State and #32 on the field.)
By Tammi Tryon
The excitement I'm filled with today was born in May 2009 when Arkansas State offered my son, Andrew, a scholarship. I am the single mother of a son who has dreamed of playing Division 1 (FBS) football his whole life, so it was thrilling to know his high school graduation would not be the end of football for us. We both love it so much.  
The first year was hard for Drew and hard for me. He was redshirted. It was hard for me to sit at the games and not see him on the field, and it was hard for me to know he was standing on the sideline when he wanted so badly the chance to prove himself. We have been told since he was young that he was too small to play football. In junior high, we heard he couldn't play high school. In high school, we were told he couldn't play in college, much less at a D1 program.
The mother in me has found it irresistible to say look at him now.  

Drew is a redshirt freshman this year and was added to the kickoff coverage team when another athlete was injured. He is very fast and uses his speed to get down the field so that he's in the faces of opposing players by the time they catch the ball. He eventually worked his way into returning kicks. He has had six returns this year for an average of 32.3 yards per return.
Again, look at him now, and look at ASU now. Here we are, bowl eligible on our way to Mobile.
Drew packs for away games the night before the team bus leaves. I have been packed for a week. I'm not sure which of us is more excited. We're excited to be proving wrong the people who didn't believe in ASU, and those who didn't believe Drew could play football at this level. He will take away from this amazing season a conference championship ring, and hopefully a bowl championship ring. My trophy is bragging rights. My son is out there playing on a conference championship team in a bowl game.  
On Monday, I started reminding all my friends and followers on Facebook and Twitter to be sure and watch the game on television if they would not be able to attend. I am so proud of my son, his teammates, and all of us who support Arkansas State. Tears welled in my eyes as I stood in the freezing cold this morning with fellow Red Wolves fans to give the team a Red Wolf Nation send off as their bus left the football facility headed to Mobile.
I've dried my tears and will hit the road soon, and my excitement shows no signs of subsiding. If you're in Mobile this weekend, I will be the mother dressed in red all weekend yelling HOWL YES! This is what college football is all about!


[+] add comment


Awesome Article and Awesome Job Andrew ~ I Will Be Watching and Howling All Weekend ~ Go Get'em Tryon, Those Who Love You are Behind You ~ I Know Charles and Liz are Busting With PRIDE for #32 as well ~

I love this article. I am not a big sports fan as Tammi knows, but I have sat in the rain at games because of Drew and other players, asking,"what are they doing now, what is a rebound?!" I am glad that Astate is finally getting some recognition, and is no longer the forgotten child of Arkansas college sports. I am proud of Drew, proud of the team as a whole, and proud of Tammi for representing Astate in such a positive light! Good Luck Red Wolves!