News Taffy
News Article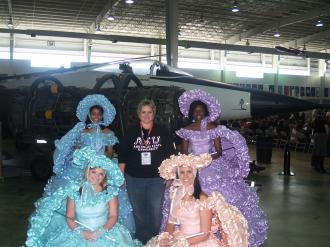 The Occasions Lady and the GoDaddy.com Bowl Birthday
By Audrey Lott Poff
Last weekend, I had the unique opportunity to combine my birthday with Arkansas State University's trip to the GoDaddy.com Bowl in Mobile, Ala.
When I found out that the bowl game would be on my birthday, I knew there would be great potential for a getaway that could result in an extended birthday celebration.
Like a lot of people from Northeast Arkansas, I've been through Mobile many times. My parents took me there as a child and I have vague memories of touring the USS Alabama, but other than that, passing through the Mobile tunnel on the way to the beach was the extent of my knowledge of Mobile.
We were fortunate enough to get hotel accommodations at the Renaissance Mobile Riverview Plaza Hotel, the team hotel for the Red Wolves and for media. Upon our arrival, we were greeted by Jonesboro Mayor Harold Perrin and Chief Operations Officer L.M. Duncan, who were returning to the hotel after visiting Mobile City Hall. I'm sure Mayor Perrin already has City Hall in the process of implementing something he learned in Mobile by now.
For the next few days, it would seem like Jonesboro had relocated to Mobile. Around every corner, across every restaurant and down every street were familiar faces that had traveled to support the Red Wolves. In the hotel lobby, former ASU Football Coach Larry Lacewell and his former players could be found swapping stories each night as Red Wolve fans gathered after dinner on nearby Dauphin St.
To our delight, our room was located on the 23rd floor with a beautiful view overlooking Mobile Bay. We didn't arrive until after 5 p.m. and our first event was a reception for media at Mobile Greyhound Park at 7.  We changed quickly and headed out for the reception where we would pick up our media credentials for the weekend.
We had a great time in Mobile. Red Wolves fans showed up in full force and the city exceeded our expectations. Although there were lots of great events that took place during our four-day visit, my most memorable moments from Mobile include:
•Touring the USS Alabama with members of the Red Wolves football team. It was simply an exciting time to be with the team as they received a royal welcome from the city of Mobile.
•Watching the Mardi Gras parade with thousands of other ASU fans just outside the hotel. Is there any other place in the world you can go to get pelted with beads and Moon Pie minis while watching a parade?
•Watching the fireworks over Mobile Bay after the pep rally. We chose to watch the fireworks from our room overlooking the bay on the 23rd floor. It was the perfect vantage point and we could still hear the howling of Red Wolves fans at ground level.
•Celebrating my birthday on the Gulf Coast. My birthday is Jan. 8. If I get to walk along any beach and let the waves wash over my feet on my birthday, it's going to be a good year! Rodney and I drove from Mobile to Perdido Key, Fla., the morning of my birthday and enjoyed a stroll along the beach. Lunch with my brother and his family at Lulu's at Homeport Marina in Gulf Shores followed. The temperature hovered near 70 degrees and live music made everything that much more enjoyable. Smoked tuna dip, melted crab loaf and bread pudding made from Krispy Kreme doughnuts … Lulu's rocks!
•Watching the Red Wolves play in the GoDaddy.com Bowl on my birthday. From getting to visit with alums I haven't seen in years at the ASU Alumni Tailgate Party to watching the game from the press box, I enjoyed every minute of the pre-game, game and post-game in Mobile. I've never attended a bowl game before but I am excited about the potential that lies ahead for the ASU Red Wolves and am optimistic that there will be many more bowl games ahead.
Congratulations on a great season, ASU, and thanks for helping me have one HOWL of a birthday! 
[+] add comment