News Taffy
News Article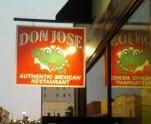 Become an Internet sensation by singing in Downtown Jonesboro!
Every Wednesday and Saturday night, Dave Ellis Grim emcees a family karaoke show at the Don Jose restaurant in downtown Jonesboro.
But, unlike other places, when you put down the microphone your voice can live on.
Singers have the option to have their performances recorded.  The audio is then uploaded to the "Don Jose Singers" page on ReverbNation where it's available for listening, downloading and sharing to Facebook.  And it's all free of charge.
Already 115 songs have been added to the site, featuring performances by several people from Paragould, Jonesboro, Brookland, Bono, Trumann and Sedgewick. 
Can't make it downtown?  On Monday and Thursday nights Grim emcees a similar karaoke show at the Don Jose on Highway 49 in Paragould.  Those performances are also available for recording.
[+] add comment