News Taffy
News Article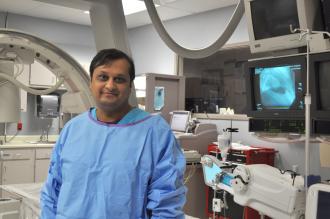 NEA BAPTIST MEMORIAL HOSPITAL USES FIRST FDA-APPROVED TREATMENT FOR HEART DISEASE PATIENTS WHO ALSO HAVE DIABETES
Jonesboro, Ark., March 2012 –– NEA Baptist Memorial Hospital recently became the first hospital in Jonesboro to use a newly approved medical device to open narrowed coronary arteries, even in heart disease patients with diabetes. The U.S. Food and Drug Administration (FDA) recently approved this new device –– the Resolute Integrity Drug-Eluting Stent (DES) from Medtronic.
"The Resolute Integrity Drug-Eluting Stent represents a significant advance in the interventional treatment of coronary artery disease," said D.V. Patel, MD at NEA Baptist Memorial Hospital. "The device's indication for CAD patients with diabetes in particular really distinguishes it from the alternatives." 
Dr. Patel performed the surgery using the stent on February 29th, 2012. "The Resolute Integrity DES addresses the challenge of treating patients with coronary artery diseases, even those with diabetes, two common health conditions that often occur together" stated Patel.
Approximately one-third of all patients –– an estimated 300,000 people in the United States alone –– who receive a stent each year have diabetes. Research shows that the nearly 26 million people in the United States who have diabetes are at a greater risk for developing CAD, and millions of U.S. patients with both diabetes and CAD face an increased rate of heart attacks and strokes than patients without diabetes. 
A stent is a tiny mesh cylinder designed to prop open a narrowed artery. A drug-eluting stent is coated with medication that is designed to prevent the artery from narrowing again; the drug elutes from the stent and into the arterial wall.
"At NEA Baptist Memorial Hospital, our goal is to provide the best possible care for our patients every day. Incorporating this stent designed specifically for diabetes patients is yet another way we focus on providing an outstanding patient experience," said Paul Betz, CEO and administrator, NEA Baptist Memorial Hospital.
NEA Baptist is a 100-bed facility that is affiliated with both Baptist Memorial Health Care and NEA Baptist Clinic. The hospital offers a number of services, including cancer, emergency, neurology, radiology and surgery. The hospital's Heart Center offers interventional cardiology, cardiac rehabilitation and chest pain emergency care, among other services. The Women's Center offers labor and delivery services as well as childbirth and breastfeeding classes. NEA Baptist Memorial Hospital is building a new 181 bed facility, located on HWY 49N. Construction is scheduled to be complete by mid-summer of 2013. For more information about NEA Baptist, please visit www.neabaptist.com.
[+] add comment