News Taffy
News Article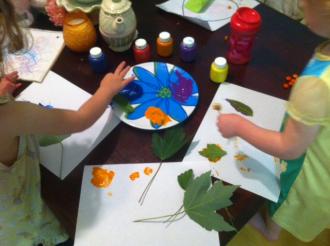 Little Hands Get Ready for Spring
Did you know that this past Sunday was Earth Day? I would have posted about it last week, but it completely snuck up on me! The only reason I even remembered it was because we have a large magnolia tree in our yard, and it has started blooming with white flowers all over. Did you know that the magnolias always bloom around Earth Day? You learn something new every day.
The whole point of Earth Day is to increase awareness of our planet's natural state and to move in a direction that will protect that state as much as we can. In school, it was always a day where we drew pictures of the earth. Now that I have children, it's a fun time to do things reminding us of nature and reminding my girls of the beauty in God's creation. Here in this house, we're huge on nature. There are potted things inside the house and all around the outside, as well as a garden and lots of planted bushes and flowers.
This week, in celebration of Earth Day, I've been trying to show the girls the differences in things in our yard alone, since they're still a little young to overwhelm with all they could find at Craighead. We took several samples of leaves and flowers from trees, grass, and bushes from our yard. Then, we used the leaves and flowers to make prints of each to see the different types of prints each piece made. It was fun to watch London have an awakening that each tree will have different leaves unless they're they same kind of tree.
We also planted some more flowers. Why not, right? This time, I took an empty two liter bottle, tore off the label, and cut it in half. I hammered the end of a screwdriver into the lid to make a good hole, and ran some yarn through it. You may want to make a loop by tying it on the inside of the top section, where your soil will be. Next, we put the top half down into the bottom half so that the lid was pointed down into the bottom. I filled the top with soil and planted the seeds. Next, we watered it and watched as the bottom section filled with water. Sit it close to a window and watch as the, now self watering, plant grows! Within a few days, we had sprouts. Less than a week later, they're getting tall! We planted zinnias, which are summer flowers.
We'll probably do a few more activities using nature this week, though I'm currently unsure of what those will be. They'll be fun surprises for the girls and myself!
Until next time,
Heather
[+] add comment