News Taffy
News Article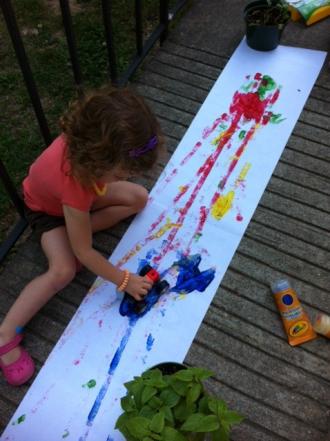 Little Hands Learn with Paint
I'm always looking for ways to teach my kids through fun crafts and projects. When an opportunity arises, and that opportunity takes the fun (and mess) outside, we jump on it!
My kids are really into animals right now, and therefore, animal tracks. However, I noticed that though they could connect a track with an animal, they weren't ready to predict what track would come from the animal. A little cause and effect project was in the making. I looked all over for some old Christmas wrapping paper that I was going to turn upside down to use the blank white side, but then I remembered they were a casualty of my moving exhaustion and were trashed. I was then just going to tape a couple pieces of paper together, but remembered a roll of princess coloring pictures you could cut off. We grabbed the roll and some tubes of washable paint, then we headed outside.
We got lucky in that our porch sidewalk is a ramp, but a slide or just hanging the paper off something to make a ramp would work too.
We hunted around for outside toys like cars and balls that would roll well, and then splattered paint down to roll them through. It was fun to watch how each thing made different tracks. Next, they grabbed the plastic animals to make animal tracks through, until eventually, shows came off to make our own tracks.
When they were finally done, I filled up their water table for them and they played with all their toys. This, of course, also rinsed everything off and cleaned up as well. I threw away the paper except for a small section that was really neat looking, and put back the potted plants that served as paper weights. Hardly any mess, educational, and they think I hung the moon because they got to cover every toy and body part in paint.
Grab some paper and paint to head outside with your kids!
Until next time,
Heather
[+] add comment