News Taffy
News Article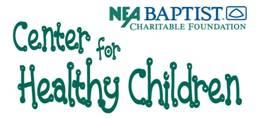 NEA Baptist Charitable Foundation Center for Healthy Children offers Summer Camp
Jonesboro, Ark., May 9, 2012

 -- 

NEA Baptist Charitable Foundation Center for Healthy Children is now enrolling for My Summer Success; a program for children ages 8-12 with a Body Mass Index (BMI) of 25 or greater. The focus of the program is staying healthy through diet and exercise. The first session is June 4 – June 22 and the second session is June 25 - July 13. All sessions run Monday through Friday from 8:00 AM to 11:30 AM.  Center for Healthy Children is located at the NEA Baptist Clinic Wellness Center at 2617 Phillips Drive in Jonesboro, Arkansas.
At Center for Healthy Children, children will learn through various exercises and sports that being healthy can be fun. In addition, healthy snacks are offered daily that are fun to make and taste good as well.  Several nutrition lessons throughout the week are also included.
The children will learn about healthy nutrition choices through lessons focused on how to choose foods wisely by label reading, portion control, eating on the go, grocery shopping and others. During free play, children are able to explore the Center for Healthy Children fitness room that has a rock-climbing wall, hydraulic resistance machines, Dance Dance Revolution Groove Pads, Wii Sports and stationary bicycles.  The children also have use of the indoor swimming pool and indoor track.
"Today's youth are less physically active, more overweight and are more likely to develop weight problems. Left unchecked, these problems will lead to a generation of unhealthy adults at greater risk for many chronic diseases – such as diabetes, heart disease and cancer" says Dr. Brannon Treece, the Center for Healthy Children medical advisor and a physician with NEA Baptist Clinic.
NEA Baptist Charitable Foundation Center for Healthy Children was created to teach, motivate and guide overweight children along with their families to build a solid foundation of proper nutrition and regular exercise for a healthy lifestyle.  This program, along with the other programs offered through NEA Baptist Charitable Foundation, is offered to the community free of charge.
For more information about NEA Baptist Charitable Foundation Center for Healthy Children or to download a My Summer Success application; log on to neabaptistfoundation.org or contact Jennifer Martinez at 870-336-1760. 
[+] add comment