News Taffy
News Article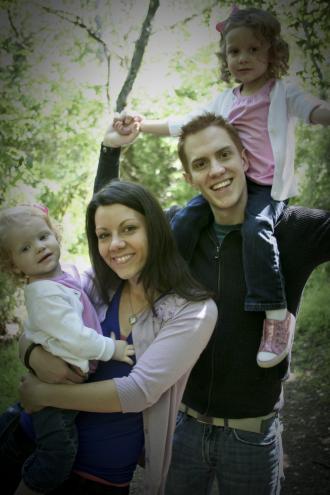 Little Hands are Ready for a Busy Summer
I hope everyone had a Happy Mother's Day!!! We did here. After church, my children were too sleepy to eat and decided they wanted nap before lunch, which meant a lunch alone with my husband! Afterwards, we went to Lowe's where I bought more potted plants, seeds, and potting soil. I have an addiction, I realize, but watching things grow is my number one favorite activity, and the more growing things growing at different rates, the more growth you'll see. Afterwards, our parents came over for dinner and to sit outside and visit. The one homemade gift we made this time was a coffee body scrub for my mom. She loves coffee as much as I do, and so it was a fitting gift.
This week is our first week to not host our small group Bible study from church. Each Tuesday night since August, we've had a married couples small group meeting here, and we've loved it! As we are forced to take a break for the summer while everyone's lives go a different direction, I not only think of how much I'll miss them, but I also worry for my house. :) Tuesday night was my housecleaning accountability, you see. No matter how crazy it got in here, it had to look at least presentable by Tuesday at 7:30. The standard of cleanliness did fall a little more each month as we got to know everyone a little better. What was a must for a group of strangers or almost strangers in August, was quite different for a group of close friends by May.
So I thought I'd ask the readers to give some tips. How do you do it? There is NO such thing as Supermom, we can all agree, and it's not that things have to be perfect by any means. For the last nine months, Monday has been my big cleaning day. Tuesday has been laundry. I prefer to do all my laundry for now at once instead of spending a little bit every day doing it. However, those of you with more than two children, or with children larger than sizes 3T can't exactly do that. (You can fit a whole lot of clothes in a washer that's 3T and smaller, you know.)
Last summer, I made a 3 list. Each day, I had a list of three things I would do. That doesn't mean laundry, clean kitchen, and something else. It meant, wash and fold colors, mop, and one other thing. One of the things was often, bake a loaf of bread or cookies. I realized that when I had such a short list that was more detailed, I got less overwhelmed and often sat there wondering what else I could put on my list because it all seemed done! PLUS, a shorter to-do list meant I could do two things and almost be finished! So productive! So what do you do? Do you have a difference in your household chore list from school season to summer? Post a comment! Or post one on the facebook post. Seriously, I am so so so open to suggestions!
Iif you're curious about that coffee body scrub recipe:
*2 cups ground coffee (the cheaper the better honestly, because it needs to be rough)
*1/2 raw sugar or sea salt - I used epsom salt so it'd be muscle relaxing in a bath, too
*2/3 Tb massage oil
Mix together and store in an airtight container. Scrub onto wet skin, then rinse off. I also added a little brown sugar and vanilla for smell, and a tad more oil. It smelled so good! I tried it out on my hands before giving it as a gift, and I now have to make some for myself!
Until next time,
Heather
[+] add comment