News Taffy
News Article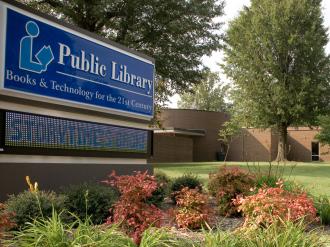 Little Hands Love the Library
Lately, it seems like the more I talk to other parents about visiting the Jonesboro Library, the more I realize how rarely it gets used. For most people, it's just an activity with the kids that you'd like to do, but never think of. So I thought I'd share some of our favorite aspects of the library so that maybe it'll spark more of an interest or reminder for other parents. I know it's hard to get places on weekends for those with kids in school, but did you know the library was open on Sundays? I never knew. It's open from 1 p.m. to 5 p.m. The hours are different throughout the week, but they're all on the front of their website, libraryinjonesboro.org.
There are other fun things happening over there that I never knew existed as well. For instance, interested in working out? You can take a zumba or walking class. Did you know you can not only borrow music from the library, but using your card, you can download music from their site? You can download ebooks and audiobooks too. Want to know my favorite part of their site? Rechecking my books that are due soon. Yes, that's right. For all you library procrastinators out there, you can recheck your books online if you can't make it to the library again before they're due! Three cheers for making things easier on Mom.
Did you know they offer a free class every Wednesday called Lunch and Learn? You're invited to bring in your own lunch and sit in on a free class! There are classes on our state parks, first aid and safety with bug bites and stings, and boating and fishing safety this month. Just in time for summer, right?
There are also free classes that may help you professionally. For instance, you can take computer classes, powerpoint, or other software classes that could really help you in the job field. There are also clubs that meet at the library. I've been kicking around the idea of sitting in on a knitting group that meets there each week since I've recently taken up the hobby.
The children's programs may be the very best thing about the library. Not only do little ones get to have library cards of their own, but the children's section is such a fun place to be. There is a large wooden fire truck to play on, little games, and books laid out easily enough to help you find the right one for your child. There is a weekly story time divided up by ages. They are interactive stories for children from newborn all the way up, and the kids love it.
It really is a fun, FREE activity to do with your family, and, as an English major, I'm all for anything that gets my kids into books. Hope to see you there soon!
Until next time,
Heather
[+] add comment