News Taffy
News Article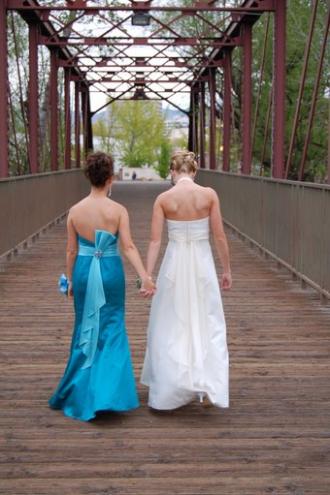 The DIY Bride and the (Almost) Double Wedding
When we last left off I told you all about our wedding registry and all that good stuff. That, to me, is the really fun part. In the last two weeks that I have been home (the longest time I will be home all summer) I have jumped so far ahead on planning that I feel like sitting and twiddling my thumbs, though I know there is still plenty to do.
Since the last time, I have found, purchased and am having alterations done to my dress; picked out a cake and other goodies; and booked the church and reception area. This is of course on top of the things I've already shared with you. But you may not think this is that big of a feat.
There's one thing I may have forgot to mention that makes this all that much more of an accomplishment. Just a month ago, my best friend and maid of honor got engaged too. The kicker? Her wedding is one month after ours! So here we are, both each other's MOH, both going through the same ups and downs of wedding planning all while trying to help each other out.
But, I'm really not complaining. It's actually going extremely well, us planning this pretty much double wedding and all. And after a little perusing of the Internet, I found that this is one of those, not-so-uncommon things. Weddings seem to be contagious.
My concern, however, was with the number of brides posting about how their friends were stealing their thunder, or getting married so soon on purpose. Personally, I think it's a great thing that we're getting married around the same time because 1. It's while we're both still around so there will be little travel involved and 2. It's taken some of the pressure off being "the one getting married."
Here's how to make it work if you and a friend are planning around the same time. Since we've both been home, I've started a lot of the nailing down of my plans, while she's just beginning to get ideas. This has worked out much to her favor as when I go to look for fabrics or flowers, cakes or music, she gets to come with and see what she may want when she gets to that step and have someone there to keep track of some of her thoughts.
While it's important not to get yourself overwhelmed with a friend's wedding at the same time you're working on yours, there's nothing wrong with helping out, especially when you're a little ahead of yourself or still finalizing your plans.
If you find yourself getting married around the same time as a close friend – one of your bridesmaids, even – before you have a bridezilla moment, really think about how everything is going to work out. While you aren't obligated to help her and she isn't obligated to help you, it's important to consider the friendship at hand. Plus, as with any friend, it's great to have someone to vent to about things you are both going through. Embrace it and enjoy.
Best Wishes
-Beth
[+] add comment