News Taffy
News Article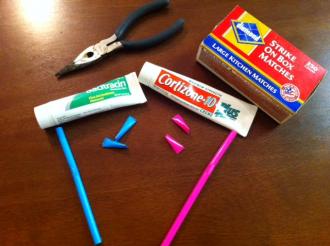 Little Hands Prep for Summer Bug Bites and Boo-Boos
Hope everyone had a great Memorial Day! It actually surprised me, or I would have posted some fun activities with last week's post! We ended up spending yesterday with just our little family with the rest of our family, including the veteran of the family, out of town for the day. I attempted to get my children to eat shrimp with a spontaneous Under the Sea themed dinner. They loved it, but didn't eat their shrimp. Oh well, maybe next time.
Tis the season of bug bites and boo-boo's, isn't it? We went to the zoo Friday, and I think London fell down at least 4 times. Sometimes, it's not always possible to carry the whole first aid kit with you, but thanks to pinterest, I've found a way to try! I made some small tubes of hydrocortisone creme and antibiotic ointment.
What you need:
*Plastic disposable straw
*Scissors
*Pliers
*Medicine of choice
*Lighter or matches
Simply cut the straw into small sections. At one end, squeeze it closed with the pliers and melt the ends together to seal it. Fill with a drop of medicine. Then seal the other end the opposite direction the first end is sealed. Once they're closed, you can throw them into a diaper bag or purse and pinch them open when needed.
I love them. My mind has always filled with ideas of homemade pixie sticks and honey filled sticks. Even organization! Fill with small amounts of glitter or paint for kid crafts! Oh, the possibilities.
Until next time,
Heather
[+] add comment