News Taffy
News Article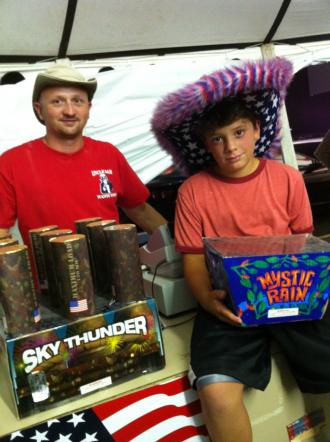 Craighead County Burn Ban Causes Fireworks Confusion
Story by Audrey Hanes and Rachel Carner
Photo by Audrey Poff
Last week, Craighead County Judge Ed Hill issued a burn ban for Craighead County, citing the county's severe drought conditions as the main cause for his decision. The ban covers all open burning, including trash, leaves or any other combustible material. Unfortunately for many area firework vendors, the burn ban has also caused confusion about the use of fireworks around the 4th of July.
"There is a burn ban in Craighead County, but some media outlets haven't explained exactly what that means, so many people in Craighead County are assuming there is a fireworks ban, too," said Devalyn Duke, operator of Uncle Sam's Fireworks in Jonesboro. "People are allowed to shoot fireworks outside of the city limits in Craighead County.
"We want everyone to find a safe spot to shoot off fireworks and to be safe about it since it is dry, but what the confusion has done is drastically affect the economics involved with fireworks vendors"
Duke says that although the ban will probably make the rules more strictly enforced this year because of the weather, it's never been okay to shoot off fireworks inside city limits.
"That's not new this year," said Duke of the rule. "You've never been able to shoot fireworks inside the city limits; that hasn't changed. If there was a ban on fireworks, tents would be shut down and vendors wouldn't be allowed to continue to sell fireworks, but the tents are still open."
Although local vendors are all still open, many say the confusion and dry weather will greatly affect their sales.
"Many vendors have been doing this for many, many years and rely on this time of year for their income; they'll be lucky to break even this year," said Duke. "Many might have trouble staying open until next year. We are trying to get the word out. We want to see our local vendors do well. That benefits everyone. The burn ban and the weather and the confusion have led sales to a decrease of 70 to 75 percent this year."
Duke has some important safety advice that people should adhere to every year, not just when there is particularly dry weather.
"When you shoot off fireworks, make sure you're shooting them into the air, away from woods or fields that are dry," he said. "Shoot over a body of water or in a parking lot, away from dry foliage. Use your fireworks like the package directs you to. Use a dry, even surface. If you have any questions about a particular firework or about shooting them off, contact your local fireworks vendor."
Uncle Sam's Fireworks is located on the corner of U.S. Highway 1 South and Lawson Road. For more information, call Uncle Sam's Fireworks at 870.243.2015 or 870.934.9300.
Two of Jonesboro's favorite Independence Day celebrations, Freedom Fest Fireworks Spectacular and Fourth in the Forrest, will also be in full swing on July 4.
Jonesboro Radio Group and KAIT will present their annual Freedom Fest Fireworks Spectacular Wednesday night, but in a new location. Since the old fairground was sold to make way for commercial development, the event has been relocated to Southside Softball Complex off Stadium Boulevard. Beginning at 9:30 p.m., local residents can tune into any of the Jonesboro Radio Group stations (104.9 The Fox, 100.5 The Eagle, Mix 106.3, Hot 107.5 and True Oldis 92.7) for accompanying music during the fireworks display. Parking is available off South Stadium Boulevard and South Caraway Road. This fireworks display is free to the public.
East Arkansas Broadcasters will host its annual Fourth in the Forest, an all-day event held at Craighead Forest Park. Admission is $10 per car load. Live music starts at noon, with performances by Buddy Jewell, Andy Griggs and Trent Tomlinson. Live Renegade Wrestling Alliance (RWA) will present matches featuring Rock N Roll Express, Grandmaster Sexay and Austin Lane. Other activities include helicopter rides, a youth fishing derby, games, food and more. The Fourth in the Forest fireworks display starts at 9 p.m.
Photo: Devalyn Duke and son Josiah display some of the newest fireworks on the market this year at Uncle Sam's Fireworks.
[+] add comment