News Taffy
News Article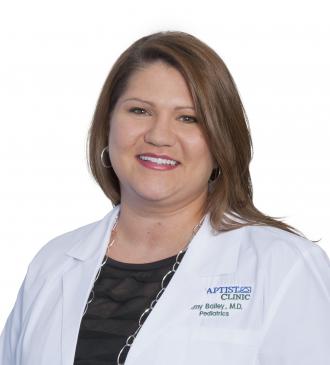 NEA Baptist Clinic Welcomes New Physician
Baptist Clinic is proud to announce the addition of Amy Bailey, MD, pediatrician. Dr. Bailey is board certified in pediatric medicine, pediatrics advanced life support (PALS) and neonatal resuscitation (NRP). Most recently, Dr. Bailey practiced at Arkansas Children's Hospital in Little Rock in the emergency department. Prior to that, she practiced at the Dennis Developmental Center at University of Arkansas Medical Sciences, where she worked with children to assess developmental conditions.
Dr. Bailey received her bachelor of science in biology from Arkansas State University. She then went on to receive her doctor of medicine from the University of Arkansas for Medical Sciences in Little Rock. She completed her residency in the department of pediatrics at UAMS and Arkansas Children's Hospital. Upon completion of her residency, she worked as a clinical instructor and most recently an assistant professor and pediatric physician at UAMS. She has also been published in numerous medical publications.
She is married to David Bailey, also from Harrison, Ark. and a pharmacist with NEA Baptist Memorial Hospital. They have two sons, Jacob (4) and Noah (1).
Dr. Bailey is now accepting patients at 311 E. Matthews in Jonesboro. Appointments can be scheduled by calling 870-934-5287.
[+] add comment