News Taffy
News Article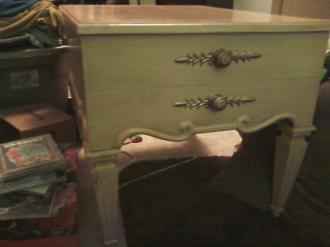 Four Years of Frugality's Recycling Project
When you think of recycling, typically "Reduce, Reuse, Recycle" pops into your head and sights of blue bins for paper, plastics, glass and other materials spin through your thoughts. But the ultimate example of recycling is bringing home flea market and yard sale finds for repurposing.
As a frugal gal, nothing is more exciting than finding awesome, funky furniture for great prices. That's been my task this week while moving into my new place. It's an old house with a lot of character, therefore the furniture needs to have just as much personality. I've been in search of a few specific items such as a TV stand and a table for getting ready in the morning. I could just as easily hit up Target or Walmart and get particle board, throw away furniture, but giving old pieces a new home is a much better option.
This week, I've found both items I'm looking for. Though I went in thinking I knew what I was looking for, I was pleasantly surprised at the two pieces I found and all the possibilities they had.
My first piece is an antique, yellow end table. It's beautiful and quirky, with all the charm of an old French style boudoir. As of right now, I'm planning to use it for my TV stand as it has a big drawer to store DVDs in. This cost me $35 at a furniture resale shop.
My next piece is a cherry buffet table. But, with three decent size drawers on the front, it makes for a great dressing table. It is made of solid wood and was practically being given away. Now to find the perfect mirror to go with it!
While I'm not doing much restoration on these items, I hope to find a piece at some point that I can paint or stain or completely repurpose. However, these two items are awesome and I'll always find a way to incorporate them in the future.
So, when you start looking for your next "recycling" project be sure and think outside the box. You never know what you'll find and how you can incorporate it.See ya around Campus!
- Beth
[+] add comment