News Taffy
News Article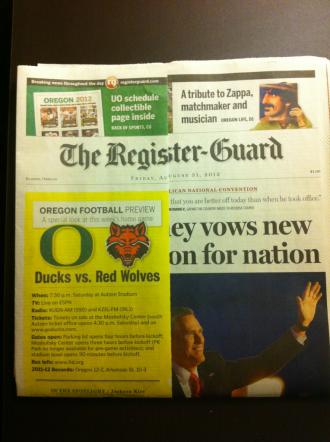 Parents of The Pack report from Oregon
Dave and Belinda Ferguson, parents of ASU freshman kicker Luke Ferguson, are in Eugene, Ore., for the Red Wolves' season opener against Oregon tonight. Dave sent this update from Oregon Friday afternoon:
"We went by Autzen Stadium earlier and there is building going on all around it. This is Nike U. It's a beautiful campus and city. Folks are friendly all around town."
Friday afternoon the Red Wolves were at a walk through at the stadium, Dave said.
"We can't wait to see them in action. More then."
The Fergusons also sent a photo of the front page of Friday's edition of The Register-Guard, the Eugene, Ore., newspaper, featuring a preview of the Ducks vs. Red Wolves game.
[+] add comment