News Taffy
News Article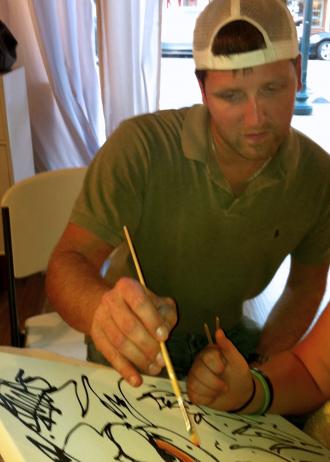 ARTIST DONATES TIME, TALENT TO ENRICHMENT PROJECT
JONESBORO - Jonesboro gallery owner and artist Sean Shrum added a big splash of color recently to the enrichment project that the Junior Auxiliary of Jonesboro conducts bimonthly for teenaged girls who are temporarily housed at Consolidated Youth Services of Jonesboro.
Shrum, whose work is well known both locally and throughout the region, provided materials and instruction to five girls from CYS at his studio in downtown Jonesboro as a part of the Junior Auxiliary program of enrichment activities for the young women of CYS. The program is designed to encourage and promote healthy lifestyles and relationships on the part of the CYS clients, who are living temporarily in the short-term residential treatment center and who are facing challenges with their homes, schools or communities.
Shrum had sketched outlines of a number of popular subjects including ASU Red Wolves, animals and other figures onto canvases that he donated to each of the girls, then provided them with brushes and watercolor paints, instructing them in painting techniques as they brought their own interpretations of the subjects to life.
Members of Junior Auxiliary, a women's community service organization, plan monthly activities for the girls to enjoy both at the center and around the Jonesboro area.
The National Association of Junior Auxiliaries, a non-profit organization founded in 1941 with headquarters in Greenville, Miss., has more than 15,500 active, associate and life members in 100 chapters in Alabama, Arkansas, Florida, Louisiana, Mississippi, Missouri, Tennessee and Texas. Junior Auxiliary of Jonesboro was founded in 1950 and currently serves the children of Craighead County through ten service projects with 67 members pledging more than 2,500 service hours during the 2012-2013 school year.
[+] add comment