News Taffy
News Article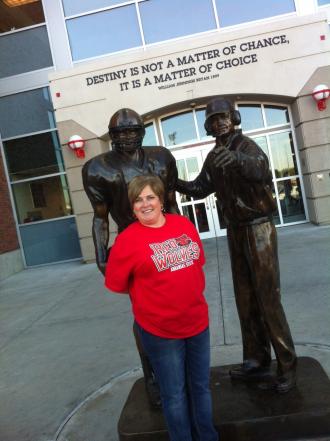 Parents of the Pack with Tammi Tryon - Football, Football and More Football
This is time of the year, my life revolves around football. I spend many Fridays traveling to watch my son play on Saturdays. I missed the Oregon game this year, which I had planned to attend since last year, but things happen. Friends and family came in for the Memphis game. I wasn't too impressed with the way we played, but a mark in the W column is better than in the L column. It seems that we are still a second half team, which reminds me of last year. I keep hoping that we will get it together and be a first and second half team.
I took the stAte Nation bus to Nebraska, which was a great trip to meet other RedWolves fans. I wish more fans would have been on the bus. Nebraska fans were very pleasant. They made it hard to continue to dislike them from when they were in the Big 12 playing against the Sooners. It was an awesome experience in front of the sold out crowd of more than 85,000. I also enjoyed some of their traditions. And as for tailgating, they sure know how to do it. I talked to my son after the game and he said it was awesome to see what some of their fan support was; letting the red balloons go on the first touchdown they scored, the student body holding up their shoes on kick offs and punts, the sway of the hands back and forth when they scored and the entire stadium doing the wave.
I know some of that might be hard for our smaller stadium to do, but as with my son, I would love to see our fans get more into the celebration of the game - not setting there like they are at a movie. My son said he would like to see our entire stadium doing the new tradition that the student body did at the Memphis game - what I believe is called the "shark." The fireworks are a great thing when we score, but I believe our guys get more motivated by when our fans get loud, celebrate and cheer them on. I see them down on the sidelines and on the field motioning for the fans to stand.
I was brought up in the game of football and remember never sitting down during some high school games. I remember following my team and supporting them, win or lose. As a parent of a college athlete playing at the D1, it is a thrill for me; but, it is even more of a thrill for him since very few high school football athletes actually get the chance to play at the D1 level. I think that as fans, we should support, yell, cheer and do whatever we can to let the players and coaches know we are there, we are behind them and we are supporting them. Surely if this female can do this, then others - especially the men - can do it, too.
So, come on and support our Red Wolves and let them know we are behind them all the way! Hear us HOWL!
-Tammi Tryon
[+] add comment