News Taffy
News Article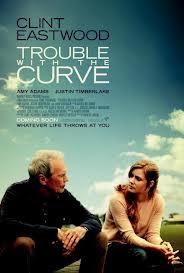 Monday Popcorn: Trouble with the Curve
Welcome back, fellow movie-goers! It has been another slow weekend for movies, but as fall is upon us, there are sure to be some great ones coming out for the upcoming holidays. After a great game by the Red Wolves on Saturday, what better way to end the weekend than with a good movie?
This week, Clint Eastwood stars in Trouble with the Curve, which is his first role in four years. Not only that, but since 1993, Eastwood has directed each film he has starred in, until now. This film marks the directorial debut of Robert Lorenz, who has worked as producer and directorial assistant in several acclaimed Eastwood films. The film also stars Amy Adams, Justin Timberlake and John Goodman.
Trouble with the Curve centers around Atlanta Braves talent scout Gus Lobel. He's been in the business for decades and scouted some of the finest players to reach the big leagues. But, as his health is deteriorating, his colleagues are left wondering if they should trust his judgment in the upcoming MLB draft. His daughter, Mickey, is a driven lawyer with a stubborn side she attributes to her father. They've had issues over the years, causing a not-so-unfamiliar disconnect between the two. But, with her charisma and knowledge of the game, she sets out to help her father on his scouting assignment.
While most people, including myself, saw and will see the film because of Eastwood, it is fair to say that Adams and Timberlake steal the show. The chemistry among all of the actors is great and enough to make up for a few missteps in the plot of the film. The characters are well-developed and the story is one any baseball fan or movie lover should enjoy. Though it is a story we've all heard before, it's a great movie, especially for fathers and daughters. Overall, I'd give it four out of five stars.
Tune in next week to see what I think of Looper. You just can't go wrong with Joseph Gordon-Levitt!
Until next time,
Beth
[+] add comment