News Taffy
News Article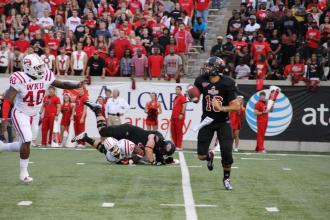 A-State Loses Conference Opener to WKU
The Arkansas State University football team appeared on the way to winning its Sun Belt Conference opener Saturday night with a solid first-half showing, but Western Kentucky rallied in the second half to hand the Red Wolves a 26-13 loss at Liberty Bank Stadium.
A crowd of 25,160 fans were in attendance for what both teams regarded as a "big" game in possibly deciding the 2012 SBC Champion. The contest was certainly a game of two halves as Arkansas State (2-3; 0-1 SBC) controlled the first half with 13 straight points before Western Kentucky (4-1; 1-0 SBC) erupted with 26 unanswered second half points.
"I was real proud of our team in the first half, against a real good Western Kentucky team," said ASU head coach Gus Malzahn. "I think the key to the game was the third quarter. They (WKU) got some momentum with a short punt, went down the field and scored. We turned right around, threw an interception and they went down the field and scored again."
The setback snapped ASU's eight-game home winning streak, which had tied for the sixth longest in the nation. The Red Wolves also dropped to 7-5 all-time in league openers while WKU not only won its third straight but was able to avenge last year's 26-22 home loss to A-State and even the all-time series (3-3-1) between the two teams.
The Red Wolves seized the momentum early in the game, accounting for all of the first-half scoring to claim a 13-0 halftime lead. The first two scores came off the leg of junior kicker Brian Davis, who split the uprights twice from 20 and 33 yards out, respectively. A-State took an early 3-0 first-quarter lead on a 16-play, 66-yard drive which consumed over six minutes. A 15-yard pass from senior quarterback Ryan Aplin to freshman wide receiver J.D. McKissic on a third and 14-yard situation followed by a pair of WKU penalties, including a pass interference call, kept the eventual scoring drive intact. ASU proceeded to march down the field to the three-yard line before settling on a Davis field goal with 4:27 to go in the quarter.
A-State put together another lengthy scoring drive on its next possession which eventually resulted in Davis' second field goal of the night. Three consecutive Aplin pass completions, including 14 and 18 yards to McKissic, moved the Red Wolves into WKU territory where ASU proceeded to reel off three straight rushing gains of six yards apiece to get down to the WKU 12-yard line. Two plays later, A-State would go up 6-0 on a Davis field goal one second under the 13-minute mark. The Red Wolves added to their lead with just nine seconds left in the second quarter as freshman Fredi Knighten completed a four-yard pass to senior tight end Anthony Kincy in the endzone on a reverse play following an ASU timeout.
Western Kentucky was able to get its offensive game on trek in the second half as the Hilltoppers produced back-to-back touchdowns to overcome a 13-point deficit and claim a 14-13 lead midway through the third quarter. The two WKU scores came via the air as tight end Mitchell Henry was on the receiving end of both James Mauro scoring passes. Mauro, who finished 8-12 with 104 passing yards on the night, hit Henry on a one-yard toss at 6:44 to put the Hilltoppers on the board at 13-7 and then just 1:36 later, the pair hooked up once again with a 22-yard scoring pass play. WKU would go up 17-13 early in the fourth on a 22-yard Garrett Schwettman fieldgoal before adding to its lead with 5:25 left as Antonio Andrews hit paydirt on a two-yard rush to give the visitors a 10-point lead (23-13). A 27-yarder from Schwettman with three minutes remaining closed out the scoring as the Hilltoppers held a potent A-State scoreless in the final 40 minutes.
"They (WKU) made some good defensive adjustments and we didn't adjust well with them, so it was a tough night especially in the second half," said Malzahn. "They made us throw it down the field, got some pressure on us, and threw off our rhythm. We knew going into the game their defensive line is one of the best in the conference."
For the game, both teams went over 300 yards in total offense as WKU had 30 more than Red Wolves (365 to 335). A-State compiled game highs in both first downs (23) and passing yards (122) while being outgained on the ground by a 243-127 yards margin. Aplin completed 23-0f-30 passes for 204 yards, but was sacked four times. Eight of Aplin's completions went to McKissic for 79 yards while senior wideout Josh Jarboe had five grabs for 42 yards. Meanwhile, A-State was held to only 65 yards rushing on 39 carries with junior running back David Oku pacing the ground attack with 79 yards on 22 attempts. WKU's Antonio Andrews paced all rushers with a game-high 215 yards on 29 carries for a 7.4 yards per carry average.
On the defensive side, sophomore Don Jones' 12 tackles (five solos) tied for game-high honors and were also a career best. Senior linebacker Nick Helms contributed career-high nine stops while junior defensive end Eddie Porter and senior linebacker Nathan Herrold added seven tackles apiece.
A-State returns to the field on Thursday with its first SBC road game of the season. The Red Wolves square off against conference preseason favorite Florida International at FIU Stadium in Miami, Fla. The contest, which is to be televised live on ESPNU, is scheduled for a 6:30 p.m. (CT) opening kickoff at Alfonso Field.
[+] add comment