News Taffy
News Article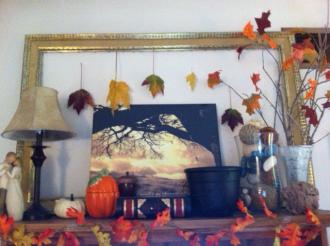 Little Hands Preserve Fall Leaves
What a lovely day! One of the new hobbies for me and my girls is spotting trees with turning leaves on our way to places. I've been fortunate in our last two homes to have at least two maple trees in our yard. Each morning, I open all the blinds in our house to let in light, and the girls run to the window to see how much changed the trees are.
I love to decorate for seasons, so of course my house has been covered in fall colors for several weeks now, but we're just now able to decorate with our favorite decor: leaves. It always seems like we wait and wait to see leaves turn, they turn quickly, and then rain and wind pull them to the ground where they're now a nuisance.
To try to hold on to that beauty a little bit longer, we pick beautiful leaves off trees while they're still changing, and dip them in a coat or two of wax.
We use paraffin wax, but I'm sure any clear wax will work. You melt it in a double boiler, or glass bowl in the microwave. You'll need less than you think. We tied up some twine in the kitchen close to the microwave to hang the drying leaves on, and once they were dipped, hung them with clothespins.
We hang them over the entertainment center in the living room, on the kitchen cabinets with tape holding the fishing line string on the inside, over windows, you name it. I've used them as a centerpiece by scattering them on a large gold plate with pinecones and put a large candle in the middle. I think they'd be easy and beautiful to put at place settings for weddings or dinners. I wish I had known about it years ago at my own October wedding.
It also gives us something to gather in little wicker baskets when we go for walks in the neighborhood or at the park. My favorite part is that it has made my little ones as observant of the changing seasons as I am.
Until next time,
Heather
[+] add comment