News Taffy
News Article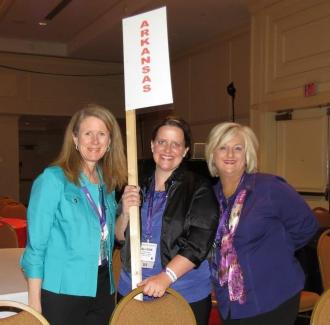 JONESBORO RESIDENTS URGE CONGRESS TO FULLY FUND THE NATIONAL ALZHEIMER'S PLAN
Sherry Pearce and Kim French of Jonesboro are attending the 25th Alzheimer's Association Advocacy Forum in Washington,D.C., April 22-24. Pearce and French willjoin nearly a thousand people with the disease, caregivers and fellow advocatesfrom across the nation to engage in the democratic process and appeal to theirmembers of Congress for action on Alzheimer's disease. The Advocacy Forum willinclude educational sessions and updates on Alzheimer's disease research andlegislative efforts. The event culminates as advocates from across the nation goto Capitol Hill to meet directly with their legislators. 
Alzheimer's advocates were vital to the release of the firstNational Alzheimer's Plan in May 2012 and Pearce and French will now becampaigning for congressional action to use the allocated funds to supportAlzheimer's research, public awareness and education, health provider training,and family caregiver support.  Today more than five million Americans areliving with Alzheimer's - a progressive and fatal neurodegenerative diseasethat has no way to prevent, cure or even slow its progression. That number isexpected to as much as triple by 2050.
Lawmakers must address the Alzheimer's crisis with the samecommitment they demonstrated in the legislation's historic passage. SherryPearce hopes to represent all of the families that have been impacted byAlzheimer's as she travels to Washington, D.C. and throughout the year as sherepresents Arkansans as an Alzheimer's Association Ambassador to CongressmanRick Crawford.
"I'm one of millions of people in the United States affectedby Alzheimer's disease," said Pearce. "This disease doesn't just affect theindividual with the disease; its ripple effects are felt throughout entirefamilies and communities. I am going to Capitol Hill to tell Congress to fullyfund the research, education, outreach, and support the activities andpriorities included in the National Alzheimer's Plan. We are facing a crisisthat grows day by day, but Congress has yet to act decisively to overcome it.Now is the time."
While the human toll is significant, the Alzheimer'sAssociation 2013 Alzheimer's Disease Facts and Figures report also revealed the costs to the nation to carefor individuals with Alzheimer's or other dementias are staggering as well. Inthe United States, care costs will total an estimated $203 billion this year,including $142 billion paid by Medicare and Medicaid and these costs areprojected to soar to $1.2 trillion in 2050.
For more about the Alzheimer's Association'sAdvocacy Forum, visit www.alz.org/forum.
Alzheimer's Association
The Alzheimer's Association is the world's leading voluntaryhealth organization in Alzheimer's care, support and research. Our mission isto eliminate Alzheimer's disease through the advancement of research; toprovide and enhance care and support for all affected; and to reduce the riskof dementia through the promotion of brain health. Our vision is a worldwithout Alzheimer's. For more information, visit alz.org
[+] add comment