News Taffy
News Article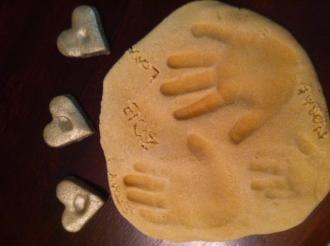 Little Hands' Keepsake Craft
Happy September! I am so excited autumn is just around the corner! In celebration of this happy month, I've already downloaded a knitting pattern to make my girls some trendy little slouchy beanies for the fall and winter, as well as started the process of contemplating Christmas gifts and crafts.
One craft I really wanted to test out was the salt dough to make keepsakes. With only three ingredients I already had on hand, it was an easy one to hurry and try one afternoon while the baby napped.
You mix equal parts flour and salt and a half part water. To have enough to make what I wanted and leftovers to let the girls play, I used a two cups each of the salt and flour and one cup water. You mix them together until the consistency is that of play doh. Then mold whatever you wish, place on parchment paper on a cookie sheet, and bake three hours on 200, or as low as your oven will allow if higher than that. I didn't have parchment paper, so we did aluminum foil and it worked. You may also want to check your pieces after awhile because smaller ones will finish earlier, and you can flip them to let the other side harden faster.
We did a large circle with the girls' hands, names, and year. We also made three small hearts with a thumbprint of each girl on each and painted them with acrylic paint when they were finished.
I love that the big unpainted one looks like handprints in the sand. It would look neat next to beach pictures. You could use this dough for grandparent gifts, keepsakes, ornaments, all sorts of things!
INGREDIENTS:
*1 cup flour
*1 cup salt
*1/2 cup water
DIRECTIONS: Mix together until nonsticky dough. Bake finished mold at 200 for 3 hours.
Until next time, Heather
[+] add comment