News Taffy
News Article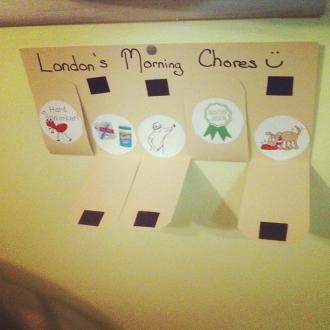 Little Hands' Chore Chart
I have always heard that every woman is different in pregnancy, and every pregnancy is different, but I didn't know how very true that is until the last year. This last pregnancy left me super sick for months and more exhausted and apathetic than either of the previous two. Because of this, the state of our house as a whole slacked a bit through it all and the first little bit of adjusting to a newborn. Now that Norah is 8 weeks and being so kind as to let me sleep more at night, a return to a new norm is in order.
It may not surprise you to learn that I taught preschool for years before becoming a mother. Not only do I love structure and organization, but I know how children thrive on it. With that in mind, we have reintroduced Bible memory verses, added a cute finger trick to learn the 10 Commandments, and a cute little chore chart.
Now, at 3 and 4 1/2 years, their chores are nothing elaborate. They are more to get the morning started and get everyone moving than for anything else. The each make their bed, brush their teeth, get dressed, and put their pajamas away. London also wipes the counter after they brush teeth and she feeds our dog, while Story puts away their little dishes from the dishwasher as a parent is emptying it.
I used cardstock to make the charts and printed little pictures off the internet to glue on. I cut the bottom to make flaps and used leftover magnet sheet from my picture magnets to make them close. They really enjoy the visual and getting to close each chore as they finish. I've pinned several charts on pinterest but this one I found seemed the most preschooler friendly.
I think my favorite part about their independence with this chart and being able to get it all done with minor supervision is the freedom it leaves us. If we want to go outside super early or leave for a spontaneous outing, I don't have to wait for everyone to get dressed and ready. What about you? Are there any creative ways you help guide your children toward an easy and productive day?
Until next time, Heather
[+] add comment