News Taffy
News Article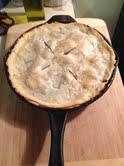 Little Hands' Spiced Apple Pie
I shared last week about our trip to the apple orchard, and since then, my kitchen has had apple fever. I first made apple butter, spiced applesauce, and apple jelly. My husband has been mostly patient through it all, waiting for his very favorite dessert, apple pie. This morning, I finally got around to it since the overcast October day and falling yellow leaves practically screamed for something to be baking. I made the pie in an iron skillet, and though I didn't measure anything this morning since my children were all awake and interrupting the process every few minutes, I'll give you my best estimate at my measurements.
Spiced Apple Pie
INGREDIENTS:
4 cups of peeled and sliced apples
1 cup & 1 tablespoon of brown sugar
1/2 cup & 2 tablespoons butter
1 tablespoon cinnamon
1/2 tsp cloves
1 tsp nutmeg
1/2 tsp ginger
Pie crust
1 tsp granulated sugar
1 egg white
DIRECTIONS:  Preheat oven to 350. Put apple slices, 1 cup brown sugar, spices, and 1/2 cup butter in a medium sauce pan and cook on medium heat until apples are soft. Next, put the 2 tablespoons of butter in the iron skillet and heat on low heat until melted. Stir in the tablespoon of brown sugar until dissolved. Once sugar is dissolved, place first crust down in the skillet on too of butter sugar mixture. Pour in hot apple mixture and cover with other crust. Brush the top crust with egg white and sprinkle with sugar. Bake until crust is golden, usually around 15-20 minutes. Serve hot and with ice cream if you've got it!
Until next time, Heather
[+] add comment