News Taffy
News Article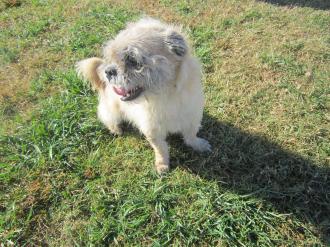 King George and Otis Spunkmeyer Need Homes
King George came to the shelter as owner surrendered and NEAHS was a little worried that he might get overly stressed out here. Not only was he not stressed, he is having the time of his life being held and petted by all the visitors! Weighing in at 15 pounds, he has not given up his other favorite pastime - EATING! He loves children and adults alike, and since he came in already declawed, he will need to be indoors only.
Otis Spunkmeyer is a very active 8-year-old Pug mix. He is the life of the party and wants to be in the middle of all the activity at the shelter! He came to the NEAHS from an abuse case but has made a full adjustment to all people and small dogs and cats. Otis is up-to-date on all vaccines and is heartworm negative.
If you're interested in adopting King George, Otis Spunkmeyer or another pet in need of a forever home, call the Northeast Arkansas Humane Society at 870.932.5185.
[+] add comment