News Taffy
News Article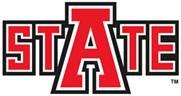 A-State Claims Second Consecutive GoDaddy Bowl Championship
Congratulations to the Arkansas State University Red Wolves, the 2014 winners of the GoDaddy Bowl!
An Allen Muse touchdown catch with 32 seconds left in the fourth quarter and a Ryan Carrethers field goal block as time expired propelled the Arkansas State football team to a 23-20 comeback victory over Ball State in the GoDaddy Bowl at Ladd-Peebles Stadium in Mobile, Ala., on Sunday.
Ball State took a 20-16 lead, its first of the second half, with 1:33 left in the fourth quarter before A-State's R.J. Fleming returned the ensuing kickoff to the Red Wolves' 41-yard line. On the third play of the drive, Fredi Knighten found J.D. McKissic for a 26-yard gain to the Ball State (10-3) 19-yard line and two plays later found an open Allen Muse in the end zone for a 13-yard touchdown catch to give Arkansas State (8-5) a 23-20 lead.
Ball State started its final drive on its own 36-yard line with the aid of all three timeouts and advanced to the A-State 46-yard line with six seconds remaining in the game. The next play, Ball State quarterback Keith Wenning found Willie Snead for a 10-yard gain to the A-State 36-yard line with two seconds left, but an A-State late hit out-of-bounds penalty gave the Cardinals 15 more yards to the Arkansas State 21-yard line. Ball State kicker Scott Secor came out to attempt a 38-yard field goal for the tie, but Carrethers blocked the kick to clinch Arkansas State's second consecutive GoDaddy Bowl victory, 23-20.
"I just want to say that it takes special, special young men to do what they have done," A-State interim head coach John Thompson said. "And to do what they did tonight, that was an example of the kind of people they are. They're fighters, and they overcame, and they're people that I've got great respect for."
Knighten stepped in for injured quarterback Adam Kennedy midway through the second quarter and finished the game with 115 yards passing and one touchdown to earn MVP honors. Knighten also led the A-State rushing attack with 97 of the team's 202 yards. McKissic led A-State with 72 yards on nine receptions to win offensive MVP, while Muse was second with three catches for 14 yards and the game-winning touchdown.
Defensively, Qushaun Lee led Arkansas State with 15 tackles and garnered defensive MVP honors, while Sterling Young and Xavier Woodson also recorded double-digit tackles with 10 each. Kyle Coleman and Rocky Hayes both recorded a sack a piece and Lee also had an interception with 33 yards returned.
[+] add comment