News Taffy
News Article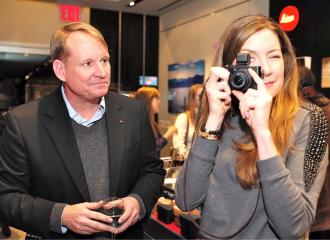 Southerner and the City: A Picture is Worth a Thousand Words
A picture is worth a thousand words. No doubt about it. Especially when it comes to travel, a photo can capture the very essence of Tuscany, Laguna Beach or New York City. I've been snapping photos since I was a young kid and got my first camera for Christmas. My photo snapping obsession has not let up especially since digital photography became mainstream.
I have always admired the fashion editorial photos of Annie Leibovitz, Steve Meisel, Bruce Weber, Diego Uchitel and Mark Abrahams And lets not forget Ansel Adams. From time to time, I've completely geeked out on cameras. I've worked with a Canon 30D since I became a mom to Corbin. It was in the delivery room with me when he was born. That camera has been everywhere I have been and captured all sorts of memories along the way.
I had the pleasure recently to hang out at the Leica studio in SoHo with a few of their expert photographers. The event was part of "Destinations in Focus" weekends with Exclusive Resorts. The gallery was full of images from Exclusive Resorts destinations including Real Del Mar, Costa Rica and Sea Island. Travel and photography go hand in hand. How can you adequately tell a travel story with out a photo? It's hard. I've tried it. I don't like it. It's boring. Which is why I liked working in television! It was a visual medium. Words can get you only so far. A photo or video can transport you to the place instantly.
Leica cameras have been around for a long time. You know that picture of the sailor kissing the woman on V-J Day? It was shot with a Leica. The camera's still have that old school look but take amazing photos just the same. I would like to add one to my collection simply because they are small and weigh less than my Canon, which can be a real pain to carry around when I'm traveling. Hello 50 pound bags!
If you have no idea what a Leica M9-P is, don't worry. I didn't either. You can stop in the store in SoHo and sign up for a class or walking photo tour and test drive the camera before you buy one. You can even buy a refurbished model at a slightly lesser cost! Keep your cash and book yourself a massage when you arrive at your next luxury vacation destination!
Keep up with DJ by following her on Twitter @mrsdjduckworth On Facebook at D.J. Cunningham Duckworth. She posts some amazing travel photos on Instagram @djduckworth She lives in Manhattan with her family and the world most amazing wiener dog, Leo.
[+] add comment