News Taffy
News Article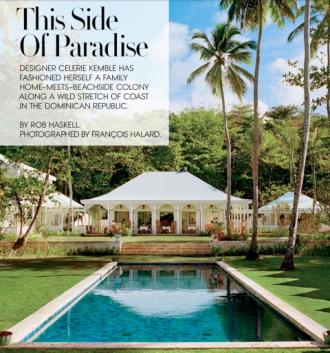 Southerner and the City: Vogue
This month's issue of Vogue magazine is a prime example of celebrity overexposure. Anna Wintour clearly put money before style when she gave the green light to feature Kim Kardashian and Kanye West on the cover of her beloved magazine. For several weeks, I've avoided the Kim-ye covered rag and let it collect dust in the living room. Until yesterday, when I finally started flipping through it and came across a hidden gem. Celerie Kemble's spread on her Dominican Republic vacation getaway.
Celerie (yes, that is her real name) and her team worked with me to design our New York City apartment. I heard her talk about this Dominican project on numerous occasions while we were discussing my own design dilemmas. While I was trying to figure out the layout of the living room and color schemes in NYC, Celerie was trying to figure out how to get water and electricity on a piece of beach front property in the DR. She worked out those details and from the looks of the photos, cleared the land of some lush vegetation and has created a gorgeous "Celeriana" infused compound. It sounded like an enormous task. Clearly it was!
Her Palm Beach upbringing made a huge impact on her style. From vintage furniture to the sea shell backed dining room chairs she found for us, it's easy to see where a lot of her inspiration comes from...the beach! She manages to pull it together in only the way Celerie can.
Grab a copy of Vogue and turn to page 258 to read the article. Check out the photos and you will see for yourself what I am talking about.
You can get a glimpse of what she did with our space in the link to Lonny Magazine HERE.
Keep up with DJ on her Facebook page I Am DJ Duckworth and on Twitter @mrsdjduckworth. She posts some amazing photos and even some mundane selfies on Instagram @djduckworth. DJ is a contributing writer for New York Family Magazine. She lives in Manhattan with her son and the world's most amazing wiener dog, Leo!
[+] add comment