News Taffy
News Article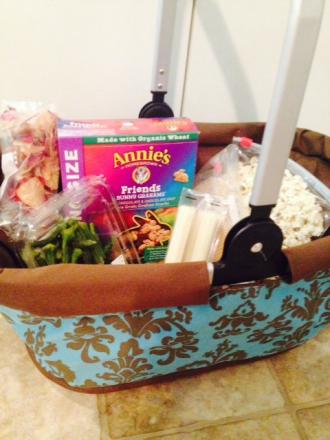 Little Hands' Healthy Road Trip Snacks
Summer is here! It's the season of water play, melting popsicles, and road trips. Each summer, we load up on freshly picked fruit and freeze it to last us for the year. This past weekend, it was time to go pick our blueberries and visit an old friend of mine.
Packing for a family of five is complicated enough, and when one of us is an infant, it multiplies the complication. The very last thing I want to add into it all is hungry children trapped in a car, so packing food for the road is a must. Luckily, we only had a few hours to travel this time, but try telling them that. I thought I'd share some ideas of great road trip snacks before some of you head out to the beach or some other lovely family vacation.
First, I put in some Annie's bunnies. They're organic and have no high fructose corn syrup. I'm not huge on being picky about what the girls eat on a road trip, but if you can avoid it, why not?
Dried okra and green beans are a big favorite for us, and lack a lot of guilt other snacks give. The same goes for vegetable chips.
We threw in little ziplock bags of popcorn we popped that day, string cheese, and dried fruit.
I usually bake mini muffins to take along, but this time I made some homemade poptarts. I'll share that easy peasy recipe next week!
Fruit and veggies are always a great choice, especially if you can cut them up and bag them before you leave.
Can you think of any ideas you could add for those looking for great kid friendly snacks for the road?
Until next time,
Heather
[+] add comment