News Taffy
News Article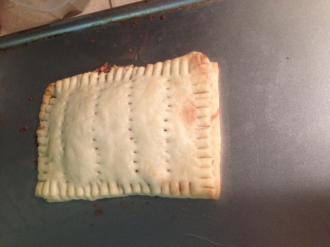 Little Hands' Homemade Poptarts
Last week, I shared some ideas for road trip snacks, and I mentioned that I'd made some homemade poptarts for our recent trip. Today, I'm going to share with you a fast and easy way to make some yourself!
Poptarts are one of the foods I grew up loving. I don't actually remember them being in our house much except for rare occasions, since our breakfast options looked more like Wheaties and Grapenuts. I'm very grateful now for healthy options as a child, but back then, poptarts were an amazing treat at sleepovers.
We have no problems at all having sweets at our house, but all studies agree that too much high fructose corn syrup is bad bad bad for you. Since it is in almost every food we eat, it's wise to limit it anywhere you can. That leaves us with homemade desserts.
I have made these poptarts completely from scratch and from a refrigerated pie crust, and the time the crust saves is worth the less flaky crust for me. So, the easiest way to make some poptarts?
Homemade Poptarts
INGREDIENTS:
1 refrigerated pie crust
6 tablespoons jam Or 6 tablespoons brown sugar and 3 tsp of cinnamon
DIRECTIONS:  Preheat oven to 350. Lay out crust flat and cut edges off with sharp knife to make one large square. Divide the square in fourths. This will leave you with the bottom and top for two poptarts. Roll out the cut off edges to make the bottom and top for the third poptart. On each bottom, spoon out your filling using approximately 2 tablespoons of filling for each. Then place the top crust on, and, using a fork, lightly press the sides all around to seal. Then lightly press holes in the top for the filling to heat. Bake 10-15 minutes or until golden brown. Cool and enjoy! Makes 3 poptarts.
Until next time,
Heather
[+] add comment